The daisy is the official birth flower of April, making the cheerful bloom the perfect choice for all your loved ones' special celebrations. The daisy is ideally suited to this honor. Often regarded as the quintessential flower of springtime, the classic white and gold bloom evokes feelings of childhood innocence and carefree days. When it comes to making sure all of your April birthdays are covered, you can trust Marco Island Florist Home & Gifts to design the freshest and most beautiful bouquets and arrangements.
The daisy has been a popular flower since ancient times. We have drawings of the bloom on ceramics dating as far back as the Egyptian empire, and daisy hair pins from the Minoan era of Greece have also been discovered. It is believed that the cultures associated the daisy with their sun gods. Not only does the daisy look like the sun, but its petals open and close according to the sun's rising and setting. In fact, it is an Anglo-Saxon word which gives the modern daisy its name – they called it "daes eag", or "day's eye".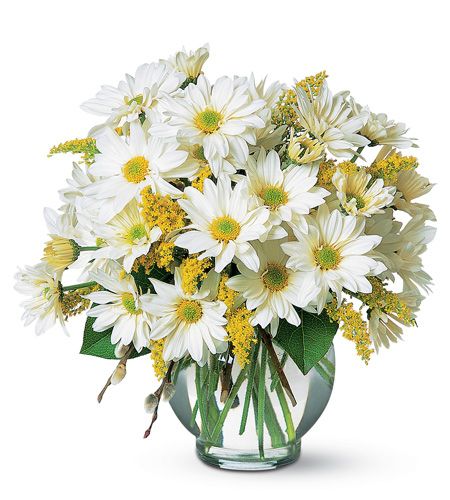 In contemporary times the flower has come to represent a youthful innocence and simplicity, as well as a cheerful and carefree vibe. The daisy is just one member of a huge extended family. (the genus Aster which means "star"). Sunflowers, marigolds, mums, dahlias, asters, and daisies are all branches on the family tree; also associated with this class are herbs like chamomile and echinacea, and produce such as lettuce and artichokes.
Did You Know? The daisy is completely edible, and it is also useful in teas to quiet coughing and to ease digestive issues.
Floral designers consider gerbera daisies one of their favorite varieties. They exhibit vibrant colors that infuse any floral arrangement with bright festivity. These daisies are the perfect selection for an April birthday bouquet, as they add beauty to any party! Whether you prefer the iconic white and gold daisy; or love a burst of vivid color, Marco Island Florist Home & Gifts has the freshest cut flowers – including all the daisies – that will deliver your sentiments right to their front door.